for the perfect Aperitivo Milanese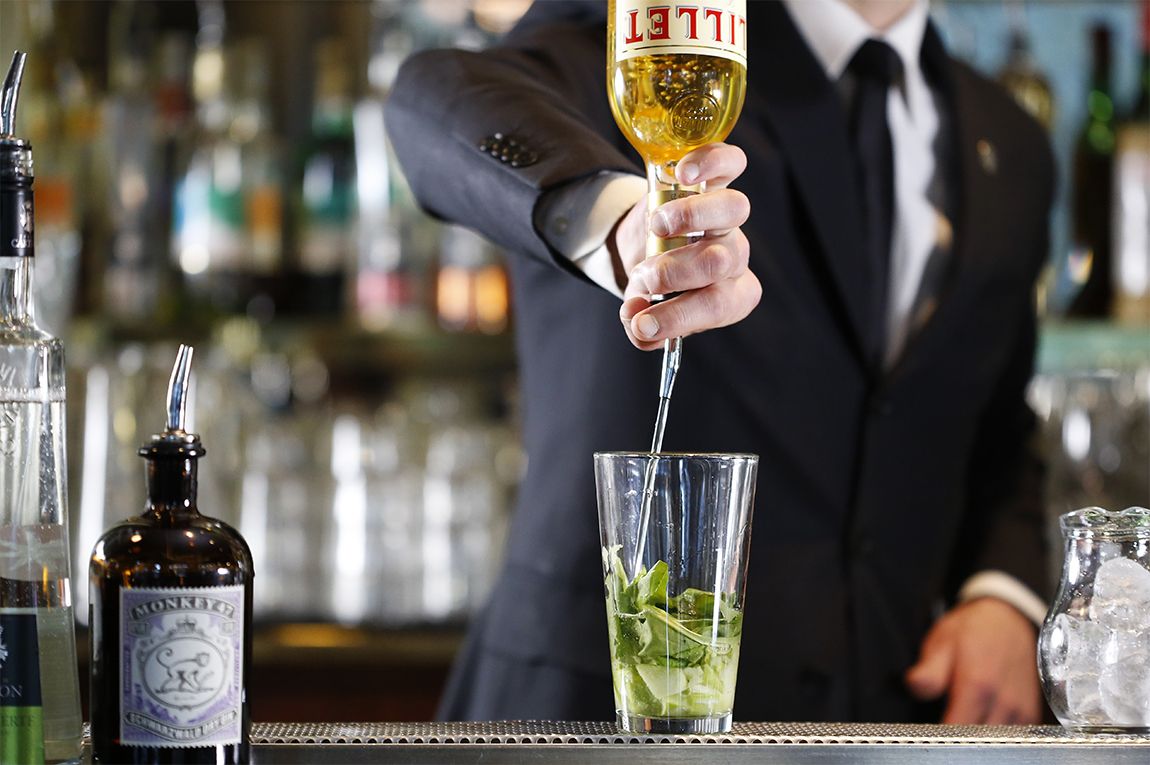 Enjoy the hclub>diana's buzzy atmosphere and extensive drink menu with its new original creations. To accompany your choice of liquid refreshment there is also a delicious buffet of delicious savory treats for the perfect "Aperitivo Milanese" experience.
Exclusive Cocktails and more...
Discover all our delicious creations artfully designed by our bar manager David to provide our guests with classics and cocktails with a special twist. To enjoy chilled and in good company.
Sparkling Cocktails
the classics
Grand mimosa
Here is yet another version of an old time classic. Grand Marnier, Grey Goose Orange, mango and orange juice served over a foam of Berlucchi Brut Spumante.
Foamy Negroni Sbagliato
Try this version of this classic created in milan in the 70's, with Martini Gran Lusso, Campari and a foam of Berlucchi Brut Rosè.
New French 75
Our own recipe of a long live classic cocktail. Raspberries shaken with lemon juice and Beefeater gin, charged with Berlucchi '61 rosè.
Royal Cosmopolitan
A sparkling variation of a contemporary classic cocktail Absolut citron, Cointreau, cranberry juice, fresh lime juice & drops of orange bitter. Charged with champagne.
Lemonlage
The fresh aroma of lemons are here contained by using Limoncello liqueur, Beefeater 24 gin, drops of lemon bitter and freshly squeezed lemon juice Berlucchi rosè and tonic water to add crispness. Then laced with a touch of crème de cassis.
Spiced Mango Bellini
Sailor Jerry spiced rum and mango shaken and then charged with prosecco.
Deluxe Vanilla Mojito
A mojito for adults! Vanilla pod opened and stirred with mint, rum Diplomatico anejo, fresh lime juice and vanilla sugars. Finished with Mumm cuvée privilege.
Cocktails - Vodka based
Vesper Martini
''This drinks is my own invention''- i'm going to patent it when i can think of a good name." that was James Bond in Casino Royal. A large portion of Absolut Elyx vodka and gin Beefeater 24, together with a part of Lillet vermouth.
Cowboy Hoof
The drink was invented by Dick Bradsell, one of Uk greatest bartenders and here proposed with vodka instead of gin. Belvedere vodka shaken with fresh mint, sugar and drops of orange bitters.
Eastern Route
A Martini cocktail with a strong oriental accent. Absolut citron vodka shaken vigorously with kiwi, lemon grass and Cartron kiwi liqueur.
French Diana Martini
Raspberries shaken with raspberry flavoured vodka, pineapple juice and a drizzle of framboise liqueur.
Shaman's Thirst
Starting with simple based spirit we created a unique recipe with Leblon Cachaca premium brand, white grapes, passion fruit e Domaine de Canton ginger liqueur. To try!
Wild Eden
Grey Goose orange vodka shaken with amaretto, apricot and green apple juice, apricot jam and fresh lemon juice. Laced with Crème de cassis.
Babi Blush
Fresh pineapple, black berries and mint shaken with Zubrowka Bison vodka, Licor 43 and Crème de Mure. Fresh and intriguing flavour, preferably to be sipped.
Cocktails - Gin based
Martinez
How many of you know the history of the Martini cocktail? Someone says the Martini is the descendent of the Martinez,an older sweeter cocktail that we propose with gin, Martini gran lusso, old fashion bitter and maraschino liqueur.
Bloodhound
A fashionable drink created in London around the '20. Gin Sipsmith shaken with fresh strawberries, Martini gran lusso e Lillet Blanc.
Round o'Roses
A fashionable drink invented within the main fashion's square of the town, an explosive bouquet and intense flavours, where fresh peaches and gin Hendrick's are shaken with rose petal tea, rose syrup and fresh lemon juice, finished with Berlucchi 61 rosè.
Indignados
Fresh strawberries are gently muddled and then shaken with Hayman's Sloe gin & Licor 43. Finished it with Berlucchi.
>h shrub-
A fascinating drink where herbal and fruits are the predominant flavours. Monkey gin infused with sorrel leafs, fresh apples, apple liqueur, lillet white vermouth, cinnamon syrup infused cloves. Spiked with a dash of cider malt vinegar. Served Short over ice.
Beet it!
A drink created to prove how easy is to pair vegetables with drinking mixology. A raw beetroot mashed with pink grapefruit, in a creamy raspberries mix, then shaken with Old Tom gin, Campari e Amaro Rabarbaro. Drops of Creole bitter.
Cocktails - Rum based
Dark 'n' stormy
Invented about 100 years ago by members of the Bermuda Royal Naval officers. After shaking 7yo dark rum and a splash of lime juice, ginger beer is added 'til the bream. Bermuda's national drink
La Mulata
Pyrat XO shaken with white crème de cacao, dark crème de cacao, chcolate bitters and fresh lime juice
White Glow
The bloom of pear mixed with the fragrance of coconut, blended with Diplomatico Venezuelan rum, coconut liqueur & coconut milk
Pear and lemon grass Caipirinha
An interesting blend of ingredients well married together and compliments each other. Cachaca 51 lemon grass infused, pear and lemon grass muddled and then stirred with vanilla sugars
Guava & Elderflower Colada
It is known that the man responsible of inventing the piña colada cocktail was not from the caribbean but from europe instead, thought to be Ricardo Gracia from Barcelona in 1914. Here is our own version: guava and St. Germain elderflower shaked with Havana 3yo and coconut cream
Paso Doble
Fresh pineapple pestled with mint leafs and maraschino cocktail cherries and then shaken with Sailor Jerry spiced rum, Aperol and drops of orange bitter. Sparkling Berlucchi rosè added at the end. This drink will certainly touch you on some dance step.
Plantation Friday Coffee
A blend of mango and Kalhua coffee liqueur, Captain Morgan dark rum and hint of coconut milk
Cocktails - Tequila based
Golden Slumber
Patron Anejo, Grand Marnier, Licor 43, lemon juice, cordial falernum and ginger beer.
Sofia Swizzle
Sotol silver, fresh apple juice, fresh lime juice, falernum syrup and drops of angostura bitter. Charged with ginger beer. It is so good so consider yourself warned and enjoy it!
Thai Margarita
Avocado & lemon grass shaken with Sotol Silver, cartron Triple sec and lime cordial
Cinnamon Cider Rita
Apple & cinnamon are mixed with Patron Anejo, Cointreau & fresh lime juice. Served short over ice
Andale
Strawberry & jalapenos blended with Patron Anejo, Grand Marnier and a Fraise des Bois liqueur. Served over crushed ice.
Black in Thyme
Thyme and blackberries shaken with Patron Reposado, Grand Marnier, fresh lime juice & Crème de Mure. Served tall with a Prosecco top.
Calle del Pecado
Sant Matias Gran Reserva tequila, vigorously shaken with granes of white grapes, lime cordial, St Germain liqueur and a dribble of almond syrup. A sin not to be missed.
Cocktails - Whiskey based
Chihuahua Cooler
Buffalo Trace bourbon whisky shaken with mango puree, mint leafs and fresh lime juice. Served long with a top of ginger beer
Hiveway
A must for all chocolate lovers. Drambuie blended with splinters of white cocholate, Cartron chocolate liqueur, milk and fresh shredded ginger. Decorated with dribbles of chestnut honey.
Gothic Manhattan
Buffalo Trace whisky carefully stirred with Crème de Mure, fresh raspberries, Martini rosso & angostura bitter
Westfields Blow
Peach and raspberries in puree shaken with Woodford Reserve whisky, Southern Comfort and Crème de Framboise. Charged with tonic water.
Cocktails - Liquor based
Oh Monsieur
White grapes slightly pressed and then shaken with cognac Martel VSOP, Martin Rosso, St. Germain Elderflower liqueur and fresh lemon juice. A touch of Pinot Grigio wine is added at the end.
The Honeymoon
An apple a day keeps the doctor away. Or the saying goes on. We have revisited this historical recipe created at Brow Derby in Holliwood around 1930 by adding to calvados Pere Magloire and Benedictine, some fresh apples, fresh lemon juice and an apple liqueur.
Recharge
If a burst of energy is what you after, then you can't miss this one! A mix of fresh raspberries, peach and mint, shaken with Hayman's sloe gin & crème de peche then kicked off with the Red Italian Edition of Red Bull
Mixology by Perrier
Perrier Glamour
Domaine de Canton shaken with Cointreau and a raspberriers puree. Strained into a champagne glass and finished with fizziness of Perrier sparkling water
Perrier Ace
This refreshing and tasty cocktail is inspired by Roland Garros, the man, and also the French Open held every year in Paris, at the end of spring - and everybody knows that «spring in Paris» is unique. It is the season when fresh fruits from all over France start flourishing in the Parisian markets Sipsmith gin, shaken with cubeb berries, cucumber, fresh lime juice and dash of basil syrup. Perrier water complete the drink.
Perrier Pleasure (Mocktail)
Basil leafs muddled with fresh strawberries, then stirred with passion fruit syrup and Perrier sparkling water
White Wines
Fumaio Castello Banfi - 13 / 55
Toscana
Bianco di Custoza az. agr. Cavalchina - 13 / 55
Veneto
Pinot Grigio M. Felluga - 13 / 55
Friuli
Regaleali Tasca d'Almerita - 13 / 55
Sicilia
Red Wines
Bardolino az. Agricola Cavalchina - 13 / 55
Veneto
Chianti Classico Castello Banfi - 13 / 55
Toscana
Valpolicella Allegrini - 13 / 55
Veneto
Champagne & Sparklers
all wines by the glass are served as 175ml
Mumm Cuvée Privilege - 15 / 90
Mumm de Cramant Blanc de Blancs millesimé - 120
Moet & Chandon Dom Perignon Vintage - 190
Perrier Jouet Blanson rosè - 95
Veuve Clicquot Ponsardin brut - 100
Moet & Chandon brut impérial - 100
Berlucchi '61 Franciacorta brut - 15 / 60
Berlucchi '61 rosè Franciacorta brut - 15 / 60
Berlucchi '61 Saten Franciacorta brut - 15 / 60
Prosecco di Valdobbiadene - 13 / 55
Beers
Heineken
the most international lager in the world, bottled or on tap
40cl on tap - 10
20cl on tap - 6
33cl bottled - 10
Club bottle 33cl - 10
H41 bottled - 10
Moretti Zero
Moretti Baffo Oro - 10
Moretti Zero - 10
Affligem
Blonde, Double, Triple in bottle
Blonde - 10
Double - 10
Triple - 10
Prices indicated in Euro, VAT and service included.
Everyday

10:30 AM - 1:00 AM